Physiotherapy in Thunder Bay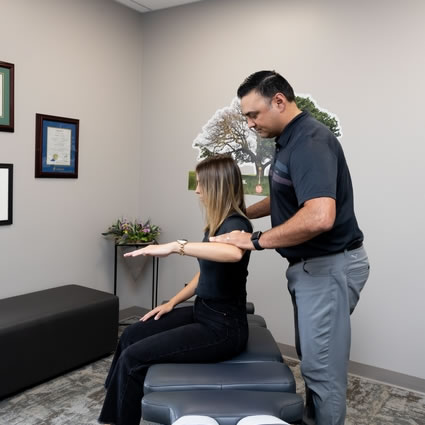 Physically or otherwise, each of us may need a little help from one of our friends. If you have suffered from a specific joint or muscle injury, the best help may come in the form of physiotherapy from us at Santin Chiropractic.
We view physiotherapy as an all-important aid in the healing and rehabilitation process following soft-tissue injuries. While our chiropractic care focuses on providing detailed work on your spine, which can help your nervous system, physiotherapy is focused on a particular joint or muscle that is not at 100%.
With an exercise therapist, our team is equipped to help you in this situation. The results of physiotherapy are often significant pain relief and a relatively speedy recovery from injury.
NEW Patients »

Process and Direction
Similar to our seamless process for starting chiropractic care, those beginning physiotherapy with us will be given forms to fill out digitally before arriving, so that time in the office is maximized.
You will likely have many exercises to do to get you to the place you want to be. We have a patient and professional team that discusses your needs with you and monitors your progress toward your goals.
Just like our chiropractic care, we care deeply about helping you get the results you desire for yourself. With early agreement on the desired outcomes, we will educate you on how we should move in the right direction.
Get Started Today
When it comes to achieving the goals you have set regarding holistic health, we are the friend you need.
Physiotherapy may be the missing ingredient you are looking for in your journey to discover optimal health. Find out if this type of therapeutic care is right for you by contacting our office and communicating your goals to our team.
Schedule an appointment now.
CONTACT US »

Physiotherapy Thunder Bay, ON | (807) 344 4606