Chiropractic Care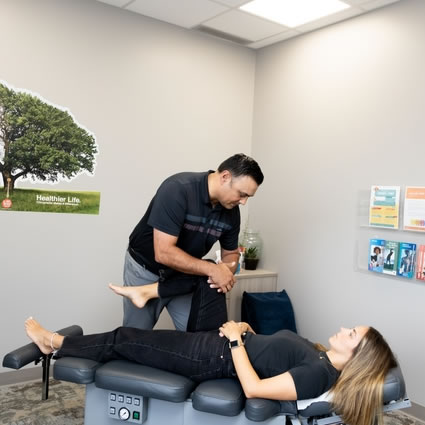 Every body (aka, everybody) needs a reset from time to time. Chiropractic adjustments from our team of respected and experienced practitioners can provide your body with the help it needs to reset and get going again.
The body is a holistic organism controlled by the brain and nervous system, which runs along the spine. Pressure or stress at this foundational level can cause many issues throughout the body, making chiropractic care crucial for whole-body healing. We value helping each patient make well-informed decisions on their healthcare.
Santin Chiropractic patients are educated throughout the process of care, as we demonstrate through examinations and adjustments how subluxations or misalignments have affected their body specifically.
NEW Patients »

About two weeks after starting with us, you will receive a doctor's report, which contains material that will help you better understand how your body works and what you can do to enhance the healing of the adjustments.
Get Started
Contact us today to set up your first appointment.
CONTACT US »
Common Conditions
There are many conditions that can benefit from our chiropractic care. Here are some of the more common reasons people come in: Low back pain Shoulder pain Neck pain Headaches Hip pain Pregnancy care Latching problems for nursing moms Colic in newborns Since chiropractic care can help at such a foundational level, there are often additional symptoms healed by adjustments, such as stomach aches or digestive problems.

Chiropractic Care | (807) 344 4606