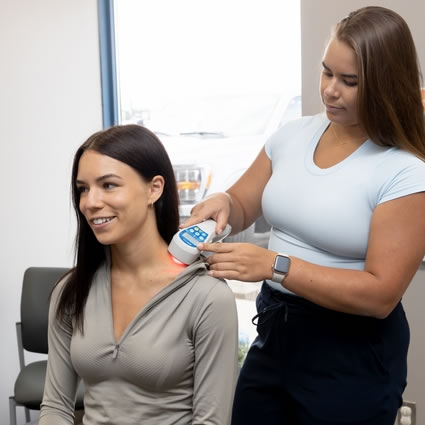 Cold Laser Therapy in Thunder Bay
As a common complement to our chiropractic care adjustments, we at Santin Chiropractic offer cold laser therapy. A trusted, safe, and effective modality, cold laser therapy is a way for us to help reduce pain and promote healing in your body on a cellular level.
When simple adjustments are not giving you the results you need on their own, we know as a goal-oriented practice that we need to make a change. One of the options is to introduce the cold laser method to you, as it is useful for many patients, including helping those who are attempting to recover from an injury or need their body to function at a higher level.
NEW Patients »

There's no risk of burns or significant pain, as it is a non-invasive procedure that stimulates the production of ATP, the energy source for cells, in the area receiving care. While that may sound science-y and weird, the experience is not scary. You will receive calm, gentle care in an area likely in a lot of pain and discomfort.
Injuries and Other Reasons for Cold Laser
There are multiple roads that can lead to cold laser therapy. Many people receiving this modality of care arrived via an injury in a sport or physical activity. Whether you are playing basketball or in competitive dance, a sprained ankle or similar injury is unfortunately too common.
An acute sprain or strain is the primary reason individuals are recommended for cold laser therapy. We believe it is not a replacement for chiropractic adjustments, and we do not use it to address low back pain or neck issues as adjustments and other modalities do.
We view cold laser therapy as a complementary method that can be a safe, pain-free way to get the results you desire.
Schedule Today
If you just suffered a significant sports injury or are experiencing chronic pain, consider starting detail-oriented, results-based care at our practice. Contact us to schedule an appointment now.
CONTACT US »

Cold Laser Therapy Thunder Bay, ON | (807) 344 4606