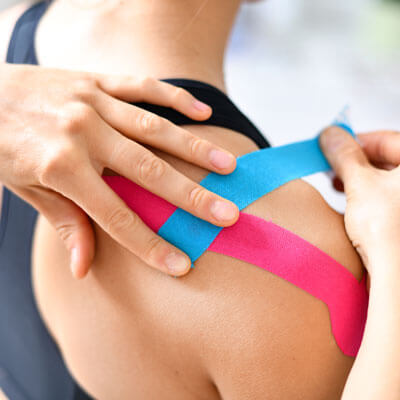 Kinesiology in Thunder Bay
To help achieve the goals we agree on with our patients, one of our adjunct offerings at Santin Chiropractic is kinesiology. It is a great partner to the physiotherapy and chiropractic adjustments that we provide for our patients, as it is a discipline focused on assessing and restoring movement in both form and function.
Kinesiology is never its own visit for our practice, but the time and effort put into this method of therapy can easily make or break your ability to hit your health goals.
NEW Patients »

What's the Purpose?
We are not about making you do work that doesn't significantly affect your desired outcomes in getting care from us. Ultimately, if we determine that kinesiology is the right next step, it is because your body should be strengthened in certain areas to heal and prevent further injury or relapses.
Your body may need to practice several movements to correct behavior that negatively affects your current and future holistic health. In concert with physiotherapy and/or chiropractic care, we see amazing results from our kinesiology patients, who stay engaged consistently in the process we provide.
What's the Process?
Usually the first step for a potential kinesiology patient is a thorough assessment. Our team will test your body's functional ability with a series of exercises or movements that reveal what needs to be worked on to get the mobility you desire for your body.
We then talk with you about what exercise equipment you have available—either at-home or at a gym. This helps us consider what activities we can present to you as options.
Finally, you will go through exercise recommendations with us and decide on what is an ideal and practical agreement for intentional movement.
Schedule Today
Contact us to book an appointment and see if kinesiology is a good supplemental care option for your needs.
CONTACT US »

Kinesiology Thunder Bay, ON | (807) 344 4606